The staff of Muskie 411.com would like to cordially welcome you to our new directory specific to the sport of Muskie Fishing in North America.
Muskie411.com is a membership based web site. Think of us like an online Muskie fishing club, where the members share information with other members. In addition to the member provided content Muskie411.com has the largest group of top professionals available anywhere.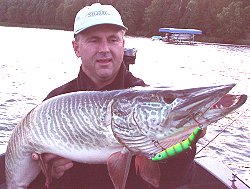 The foundation of Muskie 411.com is Musky Hunter, Esox Angler and the PMTT tournament trail. Our featured Pro's are Jim Saric, Steve Heiting, and Pete Maina, for the fishing television shows Joe Bucher and Bob Mehsikomer will share their expertise. Spence Petros and Russ Wayre both nationally known writers are also featured with instructional articles.
On the specific areas, our local pro field editors will keep you informed of the hot bite. Please review our Fishing Reports section and if you have any questions please feel free to ask. Or if you want to get in on some Muskie info check out the Musky Hunter and Muskies 101 message boards.
If your seeking a Muskie guide, resort, boat or that new hot bait and tackle, we have assembled the ultimate directories: Our guide staff is world class, the premiere Muskie guides of North America as well as our resorts who cater to the needs of Muskie fisherman. All of our marine dealers specialize in rigging your boat specific for Muskie fishing. And or course if you need that hot bait you can find using the lure library.
Muskie 411 is synonymous for Muskie Information: Muskie news and tournaments, Fishing clubs events and fundraisers or your own personal experiences, you can now share with the world on our home page. Muskie 411 encourages you to participate with us, write your own article, promote your club news and tournaments, send us a photo of your big fish for our Quik Pix, or build your own photo room to share with your fishing friends.
We invite you to come and be apart of the premiere Muskie Fishing community on the web.
The staff of Muskie411.com